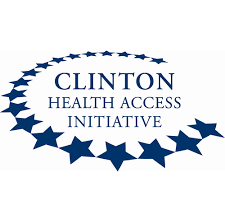 Clinton Health Access Initiative (CHAI) - Founded in 2002 by President William J. Clinton, the Clinton Health Access Initiative (CHAI) works to broaden access to life-saving treatment for HIV/AIDS, tuberculosis and malaria patients in the poorest parts of the world. As part of this mission, CHAI's "Access Programs" approach global public health challenges with market-based strategies, using simultaneous engagement on both the supply and demand sides of the market. On the supply side, CHAI engages with suppliers of essential drugs and diagnostics to improve access to products by lowering prices, accelerating new products to market, and sharing market intelligence.

On the demand side, CHAI organizes and consolidates demand for health commodities by helping governments to scale up treatment programs, mobilize new resources, improve procurement processes, and enhance local human resource capacity. Working with over 30 governments and other partners, CHAI is focused on large-scale impact on many of the largest barriers to effective treatment and care.

Clinton Health Access Initiative (CHAI) is currently recruiting to fill the following position:

Position: Country Support Manager

Location: Abuja

Type: Regular Full Time (Eligible for benefits).

Business Unit: Access Programs - Laboratory Services

Job Description:
The Country Support Manager (CSM) will work with LST to ensure the rapid scale-up and effective management of high-quality diagnostics for high burden diseases, focusing primarily on diagnostics for patients with HIV and TB.
The CSM will work with Ministries of Health and CHAI country teams across multiple focal countries, helping to optimize policies and processes, expand access to high quality diagnostics, ensure that countries have adopted best practices in planning and implementation of testing programs, and support forecasting and procurement of essential diagnostic products.
The CSM will also provide support in the quantification and mapping of funding needs against available resources, helping the government to identify funding gaps and design interventions and scale up plans in consideration of current resources.
Historically, the majority of diagnostic testing for HIV and TB has been conducted on conventional, laboratory-based technologies using sample transportation systems to expand access to testing to patients living in rural areas. However, access to these products is limited in many countries, and Ministries of Health require continued support to improve the efficiency of these technologies, expand their reach, and introduce new types of essential tests. In addition, several POC products for diagnosis, disease staging, and treatment monitoring have recently become available or are in development, with the potential to dramatically increase access to treatment, improve patient retention, and make healthcare systems more efficient.
These technologies need to be integrated with existing conventional laboratory networks, with an appropriate balance between centralized and decentralized testing.
The CSM will support countries in the implementation of both conventional, laboratory-based diagnostic products and new, innovative point-of-care (POC) products that bring diagnostics out of the laboratory and closer to the patient.
In particular, The CSM will support countries in adopting the recently published WHO 2013 guidelines, including the use of viral load (VL) for monitoring patients on anti-retroviral therapy (ART), and developing strategies for scaling up testing programs, which include HIV diagnosis, CD4 testing, Early Infant Diagnosis (EID) and other opportunistic infections.
In addition, the CSM will assist countries with the evaluation, adoption and uptake of new POC diagnostic products, which can reduce the burden of undergoing testing, and improve access to essential tests, particularly in rural areas.
The CSM will also support LST in global negotiations with diagnostics manufacturers to lower prices, and with the development of new procurement strategies such as instrument rental deals to enable easier product switching.
Finally, the CSM will help develop LST's market-shaping strategy for fostering competition in the global diagnostics market. In doing so, the CSM will develop strong relationships with various teams within CHAI, as well as Ministries of Health, diagnostics manufacturers, and other external partners in beneficiary countries.
We are seeking a highly motivated individual with outstanding credentials, qualitative and quantitative analytical abilities, and communication skills.
The CSM must be able to function independently and flexibly and have a strong commitment to excellence. CHAI places great value on relevant personal qualities: resourcefulness, responsibility, tenacity, independence, energy, work ethic and emotional intelligence.
This is a challenging but rewarding role, which will have direct and near-term impact on thousands of patients in need of life-saving health services. The role will be based in Nigeria with up to 50% travel in the region.

Duties/Responsibilities:
Serve as a key advisor to Ministries of Health, CHAI country teams, and in-country and global partners on the expansion of access to diagnostic testing, and the adoption of new diagnostic products and their integration into existing laboratory networks
Manage and coordinate diagnostics projects across multiple CHAI focal countries, with multiple work streams in each country
Act as the focal point to manage the relationship between LST and CHAI country teams, including country team leadership
Share best practices across country program to ensure knowledge is shared on the strategies, tools and experiences of all programs
Support countries in the adoption of the recently published WHO 2013 guidelines
Support countries in the development of strategic and implementation plans for HIV diagnosis in adults and children, including EID, CD4 and VL testing.
Support the adoption of current and new HIV and TB diagnostic products and their integration into existing lab networks
Assist Ministries of Health to build capacity to perform technical evaluations to drive regulatory approvals and ensure that new technologies perform accurately, conduct operational pilots to demonstrate the cost effectiveness and impact of new products on patient outcomes, and assist with analysis and writing of evaluation reports
Develop and share deployment models and strategies for how to maximize the impact of existing and new diagnostic technologies
Prepare impact analysis and build tools (forecasting, budgeting, work plans, etc.) to support countries' activities
Assist Ministries of Health in the development of testing policies and national implementation plans, and the creation of operational systems to support the wide-scale implementation of new and existing diagnostic products, such as training, quality assurance, and data management
Work with CHAI country teams, governments, and partners to identify funding for increased investment in new diagnostic products
Design and implement monitoring and evaluation (M&E) systems to measure the impact of new and existing technologies and assess progress against project goals
Assist LST to manage global supplier relationships through product demand forecasting, market analysis, sharing of market intelligence, and supporting price negotiations
Provide remote and in-country technical assistance to CHAI country teams and governments in support of work streams related to diagnostics.

Qualifications/Requirements:
Minimum qualifications: Bachelor's degree plus 4-6 years work experience
Excellent written and verbal communication skills, including the ability to prepare and deliver compelling presentations and work on complex analyses
A high degree of self-confidence and the ability to work effectively at all levels of an organization - with fellow team members, and senior executives from Ministries of Health and partner organizations
Strong analytical, problem solving, and quantitative skills, and a commitment to improvement and creative thinking with a capacity to critically assess prior achievements and develop stronger solutions and processes
Ability to think strategically, handle ambiguity and work in a fast-paced, limited-structure, multicultural environment
Ability to learn on the job quickly
Detail-oriented with strong organization skills
Ability to manage multiple work streams simultaneously and work independently
Available for up to 50% travel
High level of proficiency in Microsoft Excel, PowerPoint and Word

Pluses:
Previous CHAI experience
Policy and program management experience
Experience supporting governments in implementing health systems in resource-limited settings
Experience working in management consulting, investment banking, or similar environment
Experience living or working abroad, particularly in developing countries
Demonstrated success in training, coaching and supporting fellow team members and partners at all levels of an organization to build capacity in a sustainable manner.
Familiarity with global health issues, particularly HIV/AIDS and TB

Method of Application:
All potential job applicants should copy link and paste on a browser to Apply:

https://careers-chai.icims.com/jobs/5492/country-support-manager/job?mobile=false&width=1520&height=500&bga=true&needsRedirect=false&jan1offset=60&jun1offset=60

Application Deadline: Not Specified [Apply Speedily]

HWN...........a division of Tripple World Africa Network!
: 2015-11-30 | : 843
---