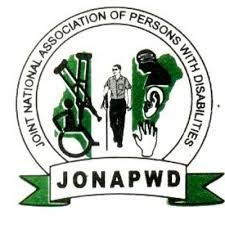 Joint National Association of Persons with Disabilities (JONAPWD) is the only umbrella body of all associations (clusters) of Disabled People's Organization (DPOs), as well as civil society organizations working on disability issues in Nigeria recognized by governments at national, state and local levels. JONAPWD has existed for over one decade, promoting the rights of persons with disabilities (PWDs); advocating for inclusive laws and policies; and engaging with all sectors and stakeholders in the society to enhance social inclusion of PWDs. JONAPWD serves as a major institutional hub of disability information resources in Nigeria.
Joint National Association of Persons with Disabilities (JONAPWD) is currently recruiting to fill the following position:

Position: Program/Administrative Assistant

Job Type: Full Time

Location: Abuja, Nigeria.

Description:
JONAPWD's vision is a society where equality social justice and rights of persons with disabilities are guaranteed. Its mission is to attain a society where equity social justice and rights of persons with disabilities are guaranteed through specific projects, advocacy and partnership with relevant stakeholders. JONAPWD currently has affiliated chapters in all the 36 states and the FCT Abuja. Local government chapters also exist in some states. JONAPWD's National Secretariat, situated in the Nigerian Federal Capital Territory, Abuja, is saddled with the responsibility for the management and administration of its activities at the national level. The Secretariat coordinates all the state and local chapters, National Disability Cluster members, CSO affiliates, as well its relationship with all local and international development partners.

Duties/Responsibilities:
He / she will be the first point of contact for all JONAPWD's related queries at the National Secretariat
He / she is expected to perform both HR-specific, general administrative and secretarial support at the JONAPWDs National Secretariat
He / she shall be in charge of filing and in custody of employee records, donors and partners records as well as organization's corporate records.
He / she shall provide direct support to Senior Management Staff of JONAPWD by scheduling meetings and appointments as well as making travel arrangements.
He/ She will be responsible for new employees' inductions, preparation of employment packages such as policies, staff welfare, benefits as well as processing termination paperwork. And shall also assist in the planning of all JONAPWD's events.
He/ She shall support in the management and administration of programmes, projects and activities of the national secretariat of JONAPWD.
Support in the design and development of programme concepts, initiatives, and implementation plans
Support in the administration of programme budgets and coordination of programme implementation activities;
Support in the implementation of programme monitoring and evaluation plans;
Support in coordinating the relationship between the National Executive and JONAPWD's cluster member organizations;
Undertake any other roles and responsibilities as may be assigned by the National Programme Officer and or the National Executive of JONAPWD from time to time.

Qualifications/Requirements:
A minimum of three (3) years of experience in disability-based programme management; public relations, HR, with a legal background.
The Program/Admin Assistant must be a graduate with at least OND, a first degree, either in Social sciences, Social Work and/or Development Studies/HR or in a management, psychology, law or business-related discipline.
Strong administrative skills
Working knowledge of Microsoft Office Suite, Excel, Power point, Ms Word e.t.c.
Appreciation for confidentiality
Excellent interpersonal skills
Strong communication skills, both written and verbal
Tact and diplomacy
The ability to coordinate while working as part of the team
The ability to work accurately, with attention to detail
Demonstrated ability to work effectively with senior political, community, and civic leaders as well as members of the donor and diplomatic community.

Method of Application:
All potential job applicants should submit the underlisted:

A one-A4 page typed application;
A copy of current CV;
Two letters of Reference from either former employee or officials from the NGO sector
Two recent passport size photos.

Submission:
All applications and inquiries should be directed to the Office of the President, National Secretariat, Joint National Association of Persons with Disabilities via Contact Address States Below:

Suit 104, Gambo Sawaba Block,
National Women Development Center,
Central Business District, Abuja,
Nigeria.

Email: info@jonapwd.org

NB:
No phone calls will be entertained
Only those shortlisted for interview will be contacted
Female PWDs are strongly advised to apply.
JONAPWD is an equal opportunity employer and does not discriminate on the basis on gender, race, and religion e.t.c.

Application Deadline: 5th January, 2016.

HWN...........a division of Tripple World Africa Network!
: 2016-01-05 | : 816
---