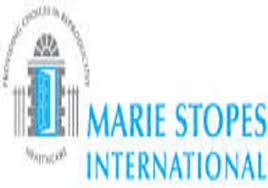 Marie Stopes Nigeria (MSION) is a results-orientated non-profit Social Enterprise, which uses modern management and marketing techniques to meet the needs of the underserved and dramatically improve the uptake of high quality family planning and other reproductive health services in Nigeria. MSION is part of Marie Stopes International's Global Partnership, which operates in over 42 countries worldwide.

Marie Stopes Nigeria (MSION) is currently recruiting to fill the following positions:

Position 1: Project Manager (PMDUP/MSION FUNDS)

Location: Abuja, Nigeria.

Reporting to: Programme Director.

Duration of contract: 2 years (renewable).

Probationary period: 6 months.

Primary Responsibilities:
The Project Manager will work closely with the Programme Director in ensuring that MSI funded project and PMDUP (DFID) projects are delivered efficiently and effectively in accordance with donor requirements and

MSION broad strategic objectives:
Specifically, with guidance of the programme director, the position holder is responsible for overall technical and programmatic implementation, oversight and coordination of MSI Funded and PMDUP projects.
S/he oversees assigned project planning, ensures implementation, with a focus on results, and financial accountability for the projects.
S/he works closely with the Field Operations, Technical Services, Quality Technical Assurance and Management and other MSION project managers, to ensure that there is full integration at implementation level within MSION, other donors, implementing partners, and CSOs activities.
The Project Manager is responsible for meeting all assigned projects' technical, financial, and project monitoring obligations, ensuring deliverables, and project results specified and agreed with donors are achieved.

The core responsibility of this post is to use your:
Initiative
Energy
Persistence
Results orientation
Drive
Integrity
Enthusiasm
Commitment to personal development

To further MSI's partnership mission of: empowering individuals to have children by choice not chance

Duties/Responsibilities:
Project Management and Operations:
Under the oversight of the Programme Director, oversee all aspects of MSI Investment fund and PMDUP project implementation including:
Lead in the drafting, review and implementation of MSI funded project and PMDUP work plans
Lead in the execution of MSI funded projects like the Investment fund and the Choice project and PMDUP projects' activities according to plan and donor guidelines.
Lead in the development of forms, set up files to ensure that MSI funded project and PMDUP information is appropriately documented and secured
Monitor progress of the PMDUP and MSI funded projects and make adjustments as necessary to ensure successful completion of projects
Ensure PMDUP and MSI funded project activities are implemented on time and within budget and at the required level of quality.
Lead in writing PMDUP and MSI funded project reports, position papers, and updates as required
In consultation with the appropriate manager, recruit, interview and select staff and/or volunteers with appropriate skills for the project activities.

Reporting, Monitoring and Evaluation:
Work closely with the RME Manager to:
Prepare and submit regular technical, progress and program monitoring reports to MSN and donors according to schedules and guidelines
Write reports on PMDUP and MSI funded projects for management and for funders and support the preparation of financial reports and project documentation.
Support MSN's M&E function in development of plans and operations research that support and measures impact of quality of PMDUP and MSI funded projects.

External Relations and liaison:
Work with the External relations Manager to:
Ensure relationships and networks with stakeholders, and relevant private, public and not-for-profit organizations are created and maintained with a view to strengthening MSN's impact and future funding opportunities
Liaise with service delivery (Outreach, Clinics and Training teams), sales and social franchise teams and other stakeholders to ensure projects are integrated at all levels.
Ensure strong links between communication and community mobilization activities, at the systems level.

Compliance:
Work with the Quality Assurance team to:
Ensure compliance with relevant donor rules and requirements for all projects
Ensure compliance with MSI policies related to fund raising and project management

Others:
From time to time address delegated duties assigned by the Programme Director and other SMT members.
Actively contribute to the strategic direction and planning of the organisation
Any other duty reasonably assigned by line manager

Qualifications/Requirements:
Advanced degree in Public Health or related discipline required.
Experience in DFiD or other donor funded projects an asset
Experience in project management
Experience in Reproductive Health an asset
Proven excellent project management abilities
Ability to present and write for multiple audiences
Ability to work well with others in team environments
Must be able to satisfy stakeholders
Should be able to work in deadline driven/results orientated atmospheres
Strong people management skills
Strategic guidance and planning skills
Attitude / Motivation:
Motivated personally and professionally to develop Willingness to travel as requested

Position 2: Programme Advisor, AHME

Reporting to: Regional Manager Programme Manager AHME

Overall Responsibilities:
Working with and reporting to the MSION Director of quality and clinical services and the programme manager, the MNCH advisor is responsible for leading all strategies for development and delivery of Maternal, Newborn and Child Health (MNCH) interventions.
He/she is required to spearhead quality management in AHME supported health areas, he/she will take the lead in training providers, supportive supervision, incidence management quality audits of AHME health areas and reporting.
He/She will provide technical direction and implementation of MNCH interventions of the AHME project in accordance with the national MNCH guidelines

Specific Responsibilities:
Quality Management BEMONC (50%):
Objective: Ensure quality management in AHME supported health areas, he/she will take the lead in training providers, supportive supervision, incidence management quality audits of AHME health areas and reporting.
Contribute towards MSION's strategy and future programme direction, with particular focus on driving MSION towards programme sustainability and increasing access to services to prevent Maternal, newborn and child morbidity and mortality.
Lead development of technically sound models to MNCH services.
Ensure effective integration of all AHME's expanded services within the private network providers within the region
Provide and sustain linkage with SafeCare to enhance quality services in the BlueStar Franchise
Collate monthly progress reports on quality assurance within the BlueStar Network
Lead incidence management by establishing clear reporting lines.
To ensure high level quality services are provided

Training (30%):
Objective: A high standard of capacity building among health professionals to deliver the intended programmes.
Lead the efforts to assess and build the capacity of the providers within the BlueStar Network to deliver and sustain the provision of quality, MNCH services.
Provide technical guidance and develop annual training curricula and materials for capacity building interventions for BlueStar network providers.
Provide theoretical and practical trainings that focus on MNCH and other health areas under the AHME project
Train providers within the network to be sure they are conversant and competent with BEmONC family planning and RH services .
Develop MSION capacity to provide trainings in the areas of MNCH.
Supervise and assess the quality of trainings provided by MSION and make recommendation for improvement.

Teamwork:
Work in close collaboration with other Senior Technical Advisors and quality advisors to ensure Quality MNCH services.
Provide technical advice and support to the MSION Centers and franchise, on quality control, health services related training, MNCH and other programme implementations.
Collaborate with all the stakeholders at the national and decentralized level- the FMOH, RHBs, development partners, local traditional authorities, local schools and community groups.
Create strong relationships with key partners for MNCH.
Support Director of Programmes to devise a plan for secondment of clinic staff to MSION franchises to facilitate sharing of experiences and best practices and learnings.
Contribute to MSION proposal development
Disseminate documents relevant to MNCH services through MSION's internal communication channels.

Technical Support:
The programme advisor must be willing to travel to other states to support the AHME project (at least 50% travels)
To support MSION centers in handling MNCH related issues that require attention
Provide technical advice and/ support as and when needed by the medical team and other staffs.
Provide leadership in the development or adaptation of service delivery models / systems which allow for expansion of service provision while promoting technical quality of care.

Sharing and Learning:
Document and disseminate MSION best medical and programme practices to promote quality and learning.
Ensure appropriate oversight, performance monitoring, and evaluation of AHME program results.
Ensure documentation of experiences that highlight successes of BEmONC integration.
Prepare technical papers, materials and presentations and represent MSION at international and domestic professional meetings and contribute for relevant professional publication.
Contribute to post content on MSION website and corporate publications

Qualifications/Requirements:
MBBS from a recognized university /college with Masters in public health or equivalent.
At least 6 years hands on experience in delivering quality MNCH services specifically in designing or overseeing MNCH services.
In-depth knowledge of national guideline on focused antenatal care
Experience in providing and /or management of MNCH trainings.
Good understanding of different stages of Labour and rational use of oxytocics
Basic knowledge of management of minor to moderate obstetric emergencies
Ability to identify obstetric emergencies, Good knowledge of standard protocol for management of ectopic pregnancy, uterine rupture, PPH , Pre-eclampsia and Knowledge of use of anti-shock garment would be an advantage
Basic surgical competence in repairing cervical lacerations, episiotomy repairs and ability to perform safe cesarean section will be a major advantage.
Basic knowledge of newborn care is also an added advantage
Understanding of the issues surrounding provision of MNCH services
Good knowledge of MNCH related trainings, quality control and referral systems
Good interpersonal/communication skills - both oral and written
Advanced analytical and organizational skills
Inspirational and persuasive
Collaborative approach to team working
Strong personal commitment to the goals of MSION and to put it into practice
Knowledge of common software (MS Office).

Method of Application:
All potential job applicants should send their CVs and suitability statement as a single attachment to:

career@mariestopes.org.ng

NB:
The subject of the email should be the Position Title / Location and the CV/Suitability statement should be saved in the applicants full name.
MSION is an equal opportunities employer and is committed to achieving gender balance within the organization.
Only shortlisted candidates will be contacted.

Application Deadline: 29th December, 2015.

HWN........a division of Tripple World Africa Network!
: 2015-12-29 | : 801
---