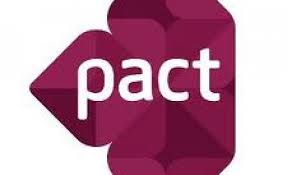 Pact works across multiple sectors and actors to combat corruption, promote democracy and improve health. Our funding partners run the gamut from the U.S. Government to private foundations to corporations, and our on-the-ground partners include Nigerian ministries and civil society organizations focused on advocacy, democracy and health.

Pact is currently recruiting to fill the following position:

Position: Government System Strengthening Technical Advisor

Location: Abuja, Nigeria.

Description:
At the heart of Pact is the promise of a better tomorrow. The promise of a healthy life. Of a decent livelihood. Of sustainable natural resources that benefit communities. Now more than ever in its 42-year history, Pact is helping millions of people who are poor and marginalized discover and build their own solutions and take ownership over their future.
Pact enables systemic solutions that allow those who are poor and marginalized to earn a dignified living, be healthy, and take part in the benefits that nature provides. Pact accomplishes this by strengthening local capacity, forging effective governance systems, and transforming markets into a force for development.

Background:
Initiated in September 2014, The Comprehensive, Coordinated Care for Children Project (4Children) is a five‐year USAID‐funded consortium of organizations led by Catholic Relief Services with partners IntraHealth, Maestral, Pact, Plan and Westat. 4Children is designed to improve health and wellbeing outcomes for Orphans and Vulnerable Children (OVC) affected by HIV and AIDS and other adversities. 4Children draws on global evidence, which illustrates that HIV and other adversities are best prevented and addressed when families and children have access to both high quality health and social welfare services. 4Children helps countries to identify practical and appropriate policies, programs and services that reduce the risk of HIV and maltreatment and promote child well-being. It promotes approaches that address the unique needs of each child and family, including strengthening front line social service workforce and case management systems.

The United States Government (USG) has made a significant investment in the prevention and response to HIV and AIDS in Nigeria over the past decade. In fiscal year 2015, more than 800,000 children benefitted from PEPFAR-supported services. Currently, PEPFAR-funded OVC programming is occurring across the country in approximately 180 LGAs.

Under PEPFAR 3.0, approaches will focus on the highest imPact interventions in key geographic areas where data demonstrate the highest prevalence of HIV. In Nigeria, this has resulted in the identification of 32 LGAs where facilities report the highest prevalence of HIV. These LGAs, also referred to as "scale up" LGAs, will be the focus of intense PEPFAR-funded interventions aimed at significantly decreasing the rate of new HIV infections and successfully treating existing cases and controlling the spread of the disease. Future interventions will have an increased focus on linking OVC and their caregivers to HIV testing and counseling (HTC) and treatment and outreach to adolescent girls to prevent new HIV infections. Through this new focus, it is anticipated that 300,000 OVC will be graduated or transitioned from current programming by end of fiscal year (FY) 2016 and an additional 600,000 OVC by end FY 2017.

To achieve these targets, 4Children will implement a two year project focused on the provision of technical assistance to PEPFAR OVC Implementing Partners, Government of Nigeria entities and networks to graduate and transition OVC households and children from care and support. To support these efforts, the project will strengthen programming around sustainability planning, case management and referral of OVC and vulnerable households to health facilities, household economic strengthening activities, parenting, and youth/adolescent girl programming, as well as supporting the development of an HIV-sensitive social service system.

Job Description:
The Government System Strengthening Technical Advisor (GSSTA) will support the Sustainability Coordinator to conceptualize and implement the overall strategy and approach to graduation, transition and sustainability as it pertains to the role of the FMWASD/SMWASD, NACA/SACAs and other key Government of Nigeria (GON) institutions. S/he will lead the design, coordination and implementation of contextualized technical assistance to PEPFAR OVC Implementing Partners (IPs) in order to strengthen the ability of SMWASD and select GON institutions to implement and sustain a HIV-sensitive social service system. The GSSTA will ensure quality, manage, support and supervise capacity strengthening consultants, short-term technical assistance (STTA) and a team of ten 4Children Zonal State Coordinators responsible for accompaniment of IPs and their work with the States with a specific focus on technical and institutional capacity strengthening technical assistance in priority areas such as leadership and governance, planning, budgeting and financing, and coordination/networking in order to strengthen and sustain the OVC response. S/he will liaise with IP management to ensure alignment between 4Children and the IP capacity strengthening efforts at the State level. The GSSTA will work closely with the Project Director and make regular visits to the FMWASD, NACA, FMOH and UNICEF to ensure alignment with efforts at State level. This position reports to the Sustainability Coordinator and will be seconded from Pact, but based in the 4Children Nigeria office.

Duties/Responsibilities:
Provide technical and programmatic leadership to develop an approach to sustainability plan development and implementation that increases the ability of relevant State institutions (e.g., SMWASD, SACA, SMOH) to fulfil their mandate and support HIV-sensitive social service system.
Support the development of analytical framework to support the analysis of existing organizational capacity assessments to inform sustainability planning.
Support IPs to identify State capacity strengthening needs using appropriate national/harmonized organizational capacity assessment tools, as necessary.
Conduct regular joint monitoring with Zonal State Coordinator to IPs and State institutions to monitor progress, identify and address additional technical assistance needs in relation to social services system strengthening.
Support IPs and States/LGAs to develop sustainability benchmarks, capacity strengthening plans that support them to meet their benchmarks and provide training and accompaniment as needed and in response to available data.
Provide training and accompaniment to PEPFAR OVC IPs to strengthen their ability to support the SMWASD and select GON institutions in key areas such as leadership and governance, planning, budgeting, financing and/or coordination/networking; and if necessary workforce strengthening, and information management/data-use for decision-making in order to strengthen and sustain the OVC response.
Develop and maintain relationships National/Federal GON entities, UNICEF, GFATM and networks keeping them abreast of progress being made by States and seek opportunities to enhance collaboration and leverage resources among critical stakeholders to support a HIV-sensitive child protection system.
Coordinate and provide supportive supervision to 10 Zonal State Coordinators in the four 4Children zones - South South/South East, South West, North and Federal Capital Territory.
Collaborate with the Organizational Capacity Strengthening Technical Advisor to identify ways to strengthen, align and link formal and informal social service systems to support OVC and their household, quality service delivery and a sustained OVC response.
Collaborate with the Case Management and Referral Technical Advisor to ensure alignment between GON policy and practice with regard to OVC household/individual case management and referral procedures, practices and tools.
Collaborate with Advocacy Technical Advisor to identify ways to improve internal advocacy efforts among key GON institutions to increase support for a HIV-sensitive social service system.
Develop Scopes of Work, source and oversee short-term technical assistance from within the 4Children consortium or consultants to support system strengthening efforts.

Supervisory Responsibility:
Ten Zonal State Coordinators based in identified PEPFAR OVC Implementing Partner offices in four zones.
Key Working Relationships:

Internal:
4Children Core Leadership and Technical Advisors; 4Children Nigeria Sustainability Coordinator and Technical Staff; CRS Nigeria Programming, Finance, Procurement, and HR/Administration; Pact Capacity Strengthening Technical Advisors; Pact Nigeria Programming; and Pact Home Office Capacity Development Team.

External:
Donors, 4Children consortium members, government ministries/institutions at the National, State and LGA levels, UN agencies, other PEPFAR implementers including UGM partners, LOPINS and all other IPs, Child Protection and OVC Networks, research institutions, and relevant private sector entities.

Qualifications/Requirements:
Masters degree in Public Policy, Public Administration, Social Work or a closely related field.
Minimum of five years senior-level experience in organizational development and provision of technical assistance to government entities at the Federal and/or State level(s) and international non-governmental organizations highly valued.
Proven experience with management and monitoring of capacity strengthening programs for government entities working in health and/or social services areas.
Demonstrated technical expertise in providing technical support and/or capacity building to government institutions in leadership and governance, planning, budgeting, financing and/or coordination/networking; Experience in workforce strengthening, information management/data-use for decision-making, management and accountability mechanisms highly valued.
Demonstrated ability to develop linkages with other organizations, including the private sector and research institutions.
Experience in leadership, planning, management, supervision and organizational skills including the ability to prepare and analyze work plans and budgets.
Excellent understanding of GON systems and procedures as it relates to planning and budgeting.
Excellent written and oral communications skills in English.
Strong interpersonal, cross -cultural and training/mentoring skills.
Knowledge of PEPFAR programming, process and frameworks is strongly preferred.
Proficiency in the use of Microsoft Office suite, including Word, Excel, PowerPoint and Outlook.

Travel:
The Government System Strengthening Technical Advisor will be expected to travel frequently within Nigeria and potentially outside of Nigeria to attend conference, workshops or other activities related to the project.

Disclaimer:
This job description is not an exhaustive list of the skill, effort, duties, and responsibilities associated with the position.
Pact is an equal opportunity employer and does not discriminate in its selection and employment practices on the basis of race, color, religion, sex, national origin, political affiliation, sexual orientation, gender identity, marital status, disability, genetic information, age, membership in an employee organization, or other non-merit factors.

Method of Application:
All potential job applicants should copy link attached below and paste on a browser to Apply:

https://rew11.ultipro.com/PAC1005/JobBoard/JobDetails.aspx?__ID=*9E80370FA0FCA4D7

Application Deadline: Not Specified [Apply Speedily].

HWN........a division of Tripple World Africa Network!
: 2016-01-31 | : 926
---