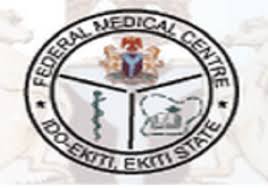 Federal Teaching Hospital Ido Ekiti situated in Ekiti state - Nigeria is currently recruiting to fill the following positions:

Position 1: House Officers (Medical Doctors).

Qualifications/Requirements:
A degree in Medicine, Registration with MDCN

Position 2: Intern Pharmacists

Qualifications/Requirements:
Pharm Degree, Registration with PCN

Position 3: Intern Radiographers

Qualifications/Requirements:
BSc. Radiology, provisional registration with Radiographers Registration Board of Nigeria

Position 4: Intern Medical Laboratory Scientists

Qualifications/Requirements:
BMLS/AIMLS, Provisional registration with professional body

Position 5: Physiotherapists

Qualifications/Requirements:
Bachelor in Medical rehabilitation, provisonal registration with Medical Rehabilitation Therpaists (registration) Board of Nigeria.

Method of Application:
All potential job applicants are to obtain application forms from the registry unit with receipt obtained from accounts cash unit after payment of the sum of one thousand naira only on internship application form fee into FMC ido REMITTA Account in any bank throughout the federation.

Candidates are to submit application forms along with 10 copies of application letters, relevant credentials and detailed curriculum vitae.

Candidates should indicate the position applied for on the TOP LEFT corner of the envelope containing their applications.

Complete application forms addressed to the chief medical director are to be submitted at the registry on or before the application deadline to the addressed as follows:

The Chief Medical Director.
Federal Teaching Hospital
PMB 201, Ido Ekiti, Ekiti State,
Nigeria.

Application Deadline: 18th January, 2016

NB: Written interview is scheduled to hold on Wednesday 20th January, 2016

Signed:
The CMD.

HWN..........a division of Tripple World Africa Network!

: 2016-01-18 | : 1146
---