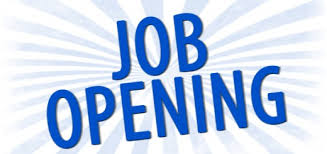 A Clinical Nutrition and Medical Devices importing and distribution company headquartered in Lagos State - Nigeria is currently recruiting to fill the following positions:

Position 1: Superintendent Pharmacist

Qualifications/Requirements:
B.Pharm and a valid practice license.

Position 2: Commissioned Clinical Nutrition Sales Representative

Locations: Ondo, Ibadan, Abeokuta, Enugu, Onitsha, Owerri, Aba, Port Harcourt

Qualifications/Requirements:
Bachelors degree in Dietetics/Clinical Nutrition, Biological Sciences graduates, H.N.D. Human Nutrition and Nursing graduates with interest/experience in Clinical Nutrition.

Method of Application:
All potential job applicants should send their CVs and applications to:

hr@labyrinthsh.com

Application Deadline: 25th February, 2016.

HWN..........a division of Tripple World Africa Network!
: 2016-02-25 | : 650
---