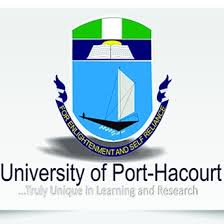 University of Port Harcourt situated in Rivers State - Nigeria is currently recruiting to fill the following position:

Position: Director, Health Services

Qualifications/Requirements:
The right Candidate for the job must possess a degree in Medicine from a recognized institution and registered with the Medical and Dental Council of Nigeria (MDCN), with at least 15 years post-qualification experience.S years of which must be as a Deputy Director.

The right candidates for the vacant positions listed above must have verifiable track records of competence, responsiveness, demonstrable integrity and transparency, ability to work in a team and be able to function with minimum supervision. in addition, the preferred candidates must possess excellent communication skills. and be in good health to be able to endure the rigours of duty in a 21 st century office environment.

Conditions of Service:
These are as applicable in the Federal Public Service and as may be appropriate in the Nigerian University System.

Method of Application:
All potential job applicants are requested to submit ten (10) typewritten copies of their application in the order listed below:

i. Full names
ii. Post Desired
iii. Date of Birth
iv. Place of Birth
v, State of Origin
vI. Nationality
vii. Permanent Horne address
viii. Current Postal Address
ix. E-mail Address
x. Marital Status
Xl. Number of Children with Names and Ages
Xii. Institutions Attended (with dates)
Xiii. Academic Qualifications (with dates)
Xiv. Professional Qualifications (with dates) where applicable
Xv. Working Experience, General and Specific Experiences (with dates)
Xvi. Present Employment, Status, Salary (Detailing work schedule)
Xvii. Extra-Curricular Activities
Xviii. Names and Addresses of Three Referees.
The Referees should forward their Reference Reports on the Candidate under confidential cover directly to:

The Registrar,
University of Port Harcourt,
P.M.B. 5323, Port Harcourt,
Rivers State, Nigeria.

NB:
Only shortlisted candidates will be Contacted.
Candidates invited to the interview should bring along with them originals of their credentials.

Application Deadline: 30th November, 2015.

Signed:
Matilda Nnodium (Mrs).
Registrar.

HWN..........a division of Tripple World Africa Network!
: 2015-11-30 | : 768
---