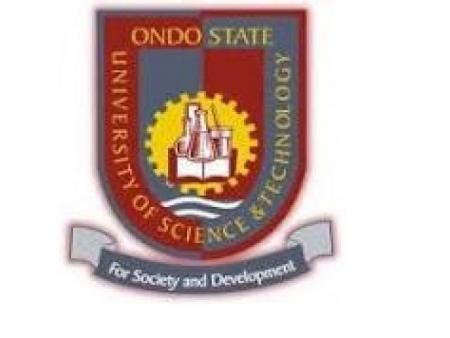 Ondo State University of Science and Technology (OSUSTECH) is a technology-based Institution which aims at providing the needed manpower training in order to address the critical and technological development of Ondo State and Nigeria as a whole. The University is offering programmes in Mathematical, Chemical, Biological and Physical Sciences. In addition, there are interdisciplinary academic centres including the Centre for Entrepreneurship and Leadership Training, OSUSTECH and the Centre for Gender, Research and Linkages.
Ondo State University of Science and Technology has the vision of becoming a leading internationally recognized institution raising a crop ftechnologically, competent individuals able to respond to the needs of their environment in a technology-driven economy. The University seeks to provide sound, scientific, technological and professional training and also identifies technological needs and sustainable development Ondo State University of Science and Technology is committed to the enthronement of highest academic and moral standards.

Ondo State University of Science and Technology (OSUSTECH) in its Health Centre is currently recruiting to fill the following position:

Position: Nursing Officer II (CONTISS 7).

Qualifications/Requirements:
A good Honours Bachelor degree with a minimum of Second Class (Lower Division) in Nursing from a recognized University and must be registered with the Nursing and Midwifery Council of Nigeria.
II. Nigerian Registered Nurse (NRN) and/or Registered Midwifery (RM) or State Certified Midwife (SCM) certificate from recognized institutions.
Candidates must possess NYSC discharge Certificates or Exemption letters.
Computer literacy is required.

Method of Application:
All potential job applicants are requested to:
Apply on-line through the University website: www.osustech.edu.ng
Forward the typed and duly signed application with 20 copies of curriculum vitae to the University.
The on-line application. when completed and submitted, a unique identification number would be assigned to the applicant. This number should be written on the hard copy application to be forwarded to the University.

The curriculum vitae to be attached to the hard copy applications should contain, among others the following:

Full Names
Title
Sex
Date of Birth
Place of Birth
State and Local Government of Origin
Nationality
Permanent Home Address
Current Postal Contact Address
E- Mail Address & GSM Numbers
Marital Status
Number of Children (with names and ages)
Next of Kin
Institution( s) Attended (with dates)
Academic Qualifications obtained (with dates)
Professional Qualifications (with dates)
Honours, Distinctions and Membership of Professional Bodies
Working Experience
Present Employment: Status, Salary and Employer
Service to the Community (with status and date j
Extra Curricular Activities
Major Conferences and Workshops attended with papers read
List of Publications as appropriate and any other relevant
information
Names and Addresses of three (3) Referees.
Signature and Date

Physical Submission:
All applications should be addressed to:

The Registrar,
Ondo State University of Science and Technology,
(OSUSTECH), P.M.B 353, Okitipupa,
Ondo State, Nigeria.

Electronic Submission:
The submission of hard copy should be accompanied by full electronic submission of the application and accompanying materials to be mailed as attachment in PDF or MS word format to:

info@osustech.edu.ng

NB: The subject matter should read "Application for the Post of Vice-Chancellor". Referees should be similarly encouraged to submit signed electronic copies of their references in PDF format to the same address.

Application Deadline: 2nd March, 2016

Signed:
Weleola J. Ekundayo.
[Registrar and Secretary of Council].

HWN...........a division of Tripple World Africa Network!
: 2016-03-02 | : 860
---