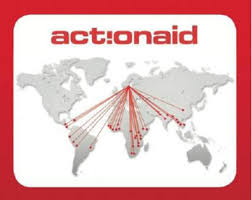 Action Aid Nigeria (AAN) is a not for profit, non-governmental entity registered with the Nigeria Corporate Affairs Commission. It commenced operations in Nigeria in 1999, while the programmatic operations commenced in January 2000 through a Country Agreement signed with the National Planning Commission of the Federal Republic of Nigeria .
ActionAld is an anti-poverty agency that prioritlses works with the poor and excluded; promoting values and commitment in civil society, institutions and governments with the aim of achieving structural changes in order to eradicate injustices and poverty in the world. ActionAid Nigeria is an affiliate of ActionAid International, an International Non-Governmental organisation registered in The' Netherlands with its headquarters in Johannesburg South Africa. ActionAid International works in more than 40 countries in Africa, Asia, Europe and the Americas.

Action Aid Nigeria (AAN) is currently recruiting to fill the following position:

Position: Project Coordinators: Sustainable Mechanisms for Improving Livelihoods and Household Empowerment (SMILE) Project.

Numbers Required: X2 Persons.

Location: Kogi & Edo States - Nigeria.

Qualifications/Requirements:
Degree in Health Sciences, Social Sciences, Arts or Humanities is essential.
Masters degree in a related field is desirable.
At least seven (7) years post NYSC experience is essential
Four (4) years' experience in a similar position in the development sector preferably in community based health work is essential
Strong communication and writing skills is essential
Ability to provide practical solutions within set deadlines is essential
Ability to maintain donor relationship and accountability in line with funding policies and standards is essential
Strong oral and written communication skills is essential
Excellent planning and prioritization skills is essential
Personal Qualities:
A person of integrity, creative and able to take initiative with ability to work effectively in a diverse team environment is essential.

Terms of Employment:
Action Aid offers competitive terms of employment.

Method of Application:
All potential job applicants should complete the application form accessed via link attached below:

www.actionaid.org/nigeria

Applications should be sent in an MS Word Format attachment to:

vacancy.nigeria@actionaid.org

NB:
Only Electronically submitted forms will be considered.
Scanned application forms will be disregarded.
Subject line of emails must state clearly the Name of Applicant, Job title of position and Location applied for e.g. Ibrahim, Joy: Project Coordinator-Edo State.
Applications from women are particularly encouraged.
While we respect all applicants, interview date will be communicated only to shortlisted candidates.

Application Deadline: 5th November 2015.

HWN..........a division of Tripple World Africa Network!
: 2015-11-05 | : 843
---