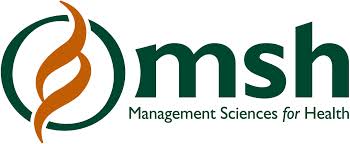 Management Sciences for Health (MSH) saves lives and improves health by helping public and private organizations throughout the world to effectively manage people, medicines, money, and information. Working from more than 30 country offices and our Arlington, Virginia and Medford, Massachusetts US headquarters, our staff from 65 nations is highly regarded for its technical expertise, integrity, and commitment to making a lasting difference in health. We live our mission to save lives and improve the health of the world's poorest and most vulnerable people by closing the gap between knowledge and action in public health.

Management Sciences for Health (MSH) is currently recruiting to fill the following positions:

Position 1: Director of Health Service Delivery (Maternal, Newborn, Child Health)

Location: Nigeria

Summary:
MSH seeks candidates for the position of Director of Health Service Delivery for an anticipated 5 year, USAID-funded project in Northern Nigeria to contribute to state-level reduction in under-five and maternal mortality, and to increased capacity of health systems (public and private) to sustainably support access to primary health care. The implementing partner will work closely with and support state governments, while strengthening their capacity in developing a robust plan for the health sector annually and provide support for its implementation to increase the use of high impact integrated maternal, newborn and child health and family planning/reproductive health interventions. The project will focus on support for service delivery in six interventions areas: family planning, malaria, routine immunization, nutrition, maternal/newborn health, and treatment of pneumonia/diarrhea. The position will be based in Abuja, Nigeria.
This position is contingent upon project award and funding.

Duties/Responsibilities:
Leads the design and implementation of the project's integrated high-impact interventions in the areas of Family Planning; Maternal, Newborn and Child Health; Maternal and Child Nutrition; Water, Sanitation and Hygiene. This integrated package of interventions will be delivered through government and/or private health providers.
Coordinate the technical expertise of MSH and its sub-contractors, which will include international, national and local organizations so that the project's technical interventions are designed and implemented as a single package which includes the best expertise of MSH and its sub-contractors.
3.Link with technical counterparts in government and international development agencies and NGOs, private sector and corporate organizations to coordinate and leverage the project's technical interventions.
Contribute to strengthening MSH presence in Nigeria.

Qualifications/Requirements:
Required – Medical Doctor, Registered Nurse or Registered Midwife with a Master's degree in Public Health or related area.
Required - Minimum of 7 years of successful experience as senior-level technical or program manager of health projects of equivalent size and complexity, funded by USAID or by other international donors.
Required – Successful working experience in health programs in Nigeria. Successful experience in the design and/or implementation of large scale programs related to Family Planning; Maternal, Newborn and Child Health; Maternal and Child Nutrition; and/or Water, Sanitation and Hygiene.
Required – Successful experience leading technical staff and consultants within a consortium of international and local sub-contractors to achieve measurable results within a technically complex and integrated health program.
Required – Successful experience engaging technical representatives of the host country government, civil society organizations, international development organizations and private sector to support project implementation and/or to provide complementary resources to the project.
Required – Successful experience of sharing knowledge, documenting experience, supporting creative initiatives, and sharing credit. Demonstrated strategic agility, diplomacy, conflict management, team building, written and oral communication in English, and negotiation skills.
Recommended - Demonstrated experience in the following:
Strengthening capacities of NGO administrative and financial systems, and oversight of grants programs.
Strengthening leadership and management capacities of national and sub-national government health systems.
Qualified candidates currently residing in Nigeria are encouraged to apply.

Position 2: HIV Clinical Services Consultant

Location: Niger, Zamfara and Kebbi States - Nigeria.

Background:
MSH, a Non-Governmental Organisation with head office in Boston USA, has been in existence for over 40 years implementing projects and programs all over the World. In Nigeria, MSH implements Prevention Organizational Systems AIDS Care and Treatment Project. The project receives her funding from USAID with an overarching goal of supporting the Government of Nigeria provide quality focused comprehensive HIV/AIDS services. The project currently supports HTC services, ART services, TB intervention; VC and community based intervention; PMTCT intervention integrated with reproductive maternal neonatal and child health services in a mix of tertiary, secondary and primary health care facilities
MSH has now established 41 comprehensive care and treatment centres in five states across Nigeria providing holistic care to PLHIV at various levels. For a smooth transition of support to host government including repositioning supported health facilities to align with PEPFAR-USAID guidance, MSH seeks to engage a dynamic ART/PMTCT-experienced Clinical Officers to support this process as a short term Technical Assistance

Objectives:
The key objective for the short-term technical assistance is to support the delivery of sustainable HIV/AID care, and treatment services in supported hospital facilities. This include but not limited to strengthening leadership and management capacity of the hospital management committee (HMC)/Quality improvement team (QIT) with a focus on the facility leadership taking on more active role in the delivery of services to PLHIV.

Duties/Responsibilities:
Support the Hospital management committee (HMC) to develop a monthly meeting schedule for hospital program review
Support the use of SIMS tools for the conduct of unit specific supportive supervision
In collaboration with hospital management committee conduct periodic orientation on the use of SIMS tool
Support capacity building of facility staff through CMEs to enhance knowledge based of service provision with emphasis on
Institutionalizing QIT and conduct of monthly meetings in the facility
Develop capacity of champions (retention, tracking and quality improvement) in the facility targeting the CMD or his designate to sustain these service delivery initiative
Identify and build capacity of QI lead to mentor on continuous process improvement (client flow, treatment initiations, adherence counselling, TB/HIV collaboration and treatment failure review etcetera) to enhance service delivery in the facility
Empower ART focal and M&E focal person to constantly review data with facility staff during QIT meeting including the use of data for decision making
Empower and transfer reporting and sharing of weekly, monthly and quarterly program activities to the ART focal person
Sustain the use of site monitoring through improvement tools (SIMS) in supported facility including mentoring facility staff on its use for periodic self-assessment
Support the HTC hospital designate to ensure HTC transition activities are in line with PEPFAR-MSH plans of keeping enrolment into care and treatment at maintenance level. Where applicable
Promote targeted testing at the GOPD or Designate facility Heart to Heart centre
Promote the use of testing eligibility checklist for assessing patients eligibility for testing
Support transitioning of established and functional provider initiated testing and counselling points to hospital management (Staff)
Provide TA for the documentation of testing and counselling of patients in the facility from non MSH supported testing points (PITC points excluding ANC, TB, Paediatric ward, GOPD or facility H to H centre)
Support the documentation of positive clients PITC points transitioned to the hospital facility
Ensure regular supply of test kits and testing of patients at the ANC, TB units and paediatric ward
Work closely with ART focal persons to improve facility treatment retention with emphasis on treatment cohort to be reported at end of MSH current physical year
Provide TA for the tracking of patients who commenced treatment among this cohort and ensure they are returned to care
Provide TA for setting up of a functional adherence and PHDP unit in the facility
Provide TA for refining of clinic flow to ensure patients receive adherence counselling at each hospital encounter before collection of prescribed medication at the pharmacy unit
Provide TA for the use of treatment calendar at the adherence counselling and records unit for the purpose of tracking of treatment cohort specified above
Monitor the implementation of Isoniazid Preventive Therapy (IPT) in the facility
Build capacity of ART focal person to lead periodic chart reviews in collaboration with the QIT members for all enrolled patients with a view of assessing quality of care- treatment eligibility evaluation, treatment failure assessment, treatment adherence for patients, patients staging etcetera
Build capacity of ART focal person to support TB screen of HIV positive patients (new and old clients) in congregate settings (PICT points, Adherence counselling rooms and triage units, consulting rooms, PMTCT setting) and documented in the appropriate tools
Build capacity of PMTCT focal person to continue to support decentralization of ART services to PMTCT service delivery points (ensuring continuous supply of ARVs to ANC service points)
Build capacity of thematic focal leads to Organize periodic CME to support capacity building of HCWs on HIV/AIDs care and support PMTCT and Collaborative TB/HIV activities.

Deliverables:
Bi- weekly update report to the STL, Clinical Care Specialist on assigned tasks using outlined format below:
Qualitative reporting
QI meeting hosting (funding) transited to the facility leadership within the next one month
Establish functional adherence unit in supported facility
Refined clinic flow to optimize clinic adherence intervention in supported facilties within the next one month
Transition of support group activity to the facility leadership through engagement of NEPWAN
Compile bi-weekly narrative report in line with conducted activities as specified in the TOR including the Quality improvement team meetings with supportive data
Compile report monthly on achievements to supervising technical staff
Provide a comprehensive report at the end of the period reflecting task that were assigned and carried out including findings and recommendations

Qualifications/Requirements:
The clinical officer will be a highly skilled clinician with at least 2 years of clinical work experience in a busy ART treatment centre.
S/he will have thorough knowledge of HIV/AIDS prevention, care and treatment programs in Nigeria including current Knowledge in the field of HIV programming.
Registered with the relevant professional bodies (Nigeria Medical and Dental Council).

Method of Application:
All potential job applicants should copy link attached below and paste on a browser to Apply:

Position 1:
https://jobs-msh.icims.com/jobs/8140/maternal%2c-newborn%2c-child-health--director-of-health-services-delivery/job?mobile=false&width=1100&height=500&bga=true&needsRedirect=false&jan1offset=-300&jun1offset=-240

Position 2:
https://jobs-msh.icims.com/jobs/8948/hiv-clinical-services-consultants-%28to-be-based-in-niger%2c-zamfara%2c-kebbi-states-supporting-tertiary%2c-secondary-and-primary-health-care-facilities%29/job?mobile=false&width=1100&height=500&bga=true&needsRedirect=false&jan1offset=60&jun1offset=60

EEO Statement:
Management Sciences for Health is an equal opportunity employer offering employment without regard to race, color, religion, gender, sexual orientation, gender identity, age, national origin, citizenship, physical or mental disability, or protected veteran status.

Application Deadline: 25th April, 2016

HWN..........a division of Tripple World Africa Network!
: 2016-04-25 | : 834
---