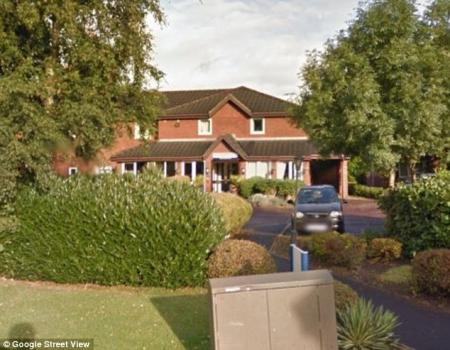 A callous nurse who said, 'Leave him, he's dead anyway' as she refused to resuscitate a dying man has been struck off.
Former agency nurse Cicilyamma Simon ignored pleas from a colleague and emergency services after she called an ambulance to Westwood Lodge Nursing Home in Wigan, Lancashire.
She then lied on the man's care form, claiming she had tried to revive him.
Simon told the Nursing and Midwifery Council (NMC) she had performed CPR until paramedics arrived and thought it was 'too cruel to carry on when she believed he was dead.
However, a disciplinary panel today found her guilty of misconduct and banned her from the profession for life.
Panel chair Eileen Skinner said: This was thoroughly dishonest behaviour and an extremely serious professional failing for a registered nurse.
The tribunal heard Simon was told by a colleague that the man, referred to only as Resident A, had breathing problems, but failed to attend to him. She called an ambulance, but it did not arrive for nearly 45 minutes.
The patient was later found in his room 'grey and unresponsive' and another nurse began performing CPR.
Simon's colleague twice asked her to take over so she could rest her hands, but Simon refused, telling her co-worker: 'No, leave him, he's dead anyway.' The man was pronounced dead when the ambulance arrived.
Simon then claimed she had assisted her colleague with CPR. Her colleague told the panel: 'I've been trained to do CPR until the paramedics arrive sometimes you can do CPR for 2 to 3 hours.
You don't just stop you never know when the heart will start beating again.
Simon claimed that she had never said a lie in my life' and that 'whatever I have written...happened.
But the panel found all charges against Simon were true and struck her off the NMC register.
Panel chair Eileen Skinner said: 'You had a duty to perform CPR on Resident A. You confirmed that you were so aware.
You had also been specifically asked to do so on two occasions by Colleague F, as well as by the emergency services during the course of your telephone conversation with them.
You had, furthermore, a duty to work cooperatively with your colleagues. Colleague F had asked you to assist her in administering CPR as she needed to rest her hands. You refused to do so.
You made a dishonest entry in Resident A's Planned Care form in order to falsely give the impression that you had assisted with the CPR of Resident A. Your actions were motivated by self-interest and self-preservation.
She added: 'Whilst there was no evidence to establish a causal link between your refusal to assist Colleague F and Resident A's death, it is out view that your failures gave rise to a clear risk of harm.
You provided no reassurance, of which the panel could accept or be satisfied, that your misconduct is not liable to recur in the future.
We concluded that misconduct of the kind found proved in this case, in the context of our assessment of a deep-seated attitudinal problem and a significant risk of repetition, is fundamentally incompatible with continued registration.
Simon, who was present and represented, was struck off the NMC register and an 18-month interim suspension order imposed to allow for the possibility of an appeal. She has 28 days to appeal the decision.
Source: DailyMailUk, HWN Africa
: 2017-02-12 18:06:42 | : 464
---