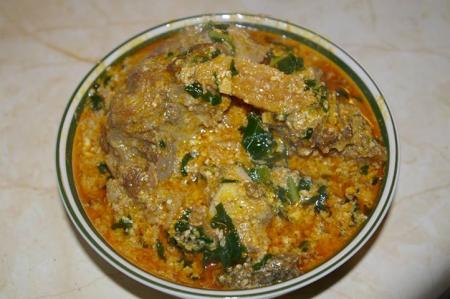 An attempt by a frustrated housewife in Atumaga Community in Delta State to get her husband to fulfill his conjugal duties at the weekend backfired after she reportedly ate an egusi (melon) soup laced with a poisonous charm she procured from a native doctor.

It was reported that the housewife identified as Egwoli (surname withheld) had complained of abandonment -that her husband has not been making love to her since they got married two years ago.

The wife, instead of seeking the family's intervention, allegedly sought the help of a native doctor who prepared a charm via egusi soup for the man to have a change of heart.

The man had told some persons that he was involved in extra-marital affairs because of an odour that oozes from his wife.

On her return from the native doctor's place on Friday evening, she immediately applied the charm but unfortunately the man was nowhere to be found. She was said to have mistakenly mixed the charm in her own soup not knowing it was poisonous. She ate it, went to bed and died.

Reacting, the husband said: "My wife had threatened to make me impotent when I stopped making love to her for obvious reasons and I found some fetish items in her room, including the egusi soup she ate before her death.

Delta State Police spokesman, DSP Celestina Kalu, said the police was currently investigating the circumstances that led to the woman's death, adding that reports indicated she was involved in fetish activities.
: 2015-04-24 15:35:18 | : 1480
---