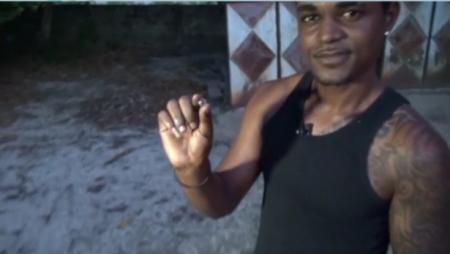 Bullets and penis are not two words you ever hope to hear used in the same sentence, especially if you are the owner of a functioning male organ. However, in Surinam that is the new uber cool. Men are mutilating their penises in order to be more popular with the women. According to a report from blog This Girl's Black Book, some men are getting so popular with the women after the procedure that they have to stop answering their phones.

First of all, this short documentary is not suitable for young viewers under the age of 16. This documentary is about the new penis trend in Surinam. Some Surinamese men are having little bullets, so called boegroes, inserted under the foreskin of their penis to enhance stimulation to women's G-Spot. Correspondent Jurgen Lachman spoke to men who got boegroes placed and to the most famous boegroe-doctor of Surinam.

A boegroe is a glass bullet that is inserted under the foreskin of the penis. The purpose is to enhance the stimulation to women's G-spot. I can't really call it a brand new trend, as boegroes are a well-known concept in the Surinamese community. People even claim that Surinamese politician Brunswijk has a whopping amount of seventeen boegroes in his penis!

The most famous boegroe-doctor of Surinam, doctor Voight. He has been helping men get boegroes for eight years now. Every week he gets about 4 to 5 requests to have boegroes inserted into penises and the requests just seem to keep on coming.

Source: TGBB, HWN Africa.
: 2016-02-28 17:57:29 | : 938
---