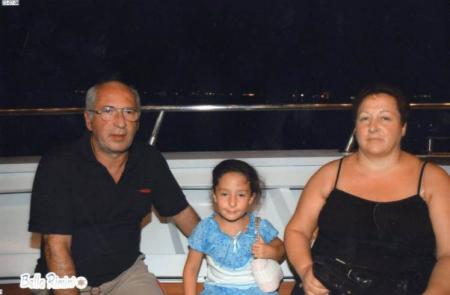 57-year-old Aurora Bellandi and her 58-year-old husband Giuseppe are attempting to sue their local hospital for a failed abortion which happened 15 years ago.
The Bellandis, of Rimini, Italy, are asking for €1m (approximately £700,000) for 'psychological trauma' and maintenance costs for their now 14-year-old daughter, Elisa.
And most amazingly of all, Elisa is supporting them:
The unusual case, has just as unusual a back story. Aurora was 43 when she accidentally fell pregnant with Elisa. The couple already had an older son and were worried about how they would cope financially, and what's more, due to health complications (Aurora suffers from ovarian fibroma), doctors recommend she abort the child.
Bellandi for Keith

Giuseppe and Elisa are standing together on this:
The couple agreed to the procedure, but it was unsuccessful, and by the time they found out the pregnancy was too far along for them to try again. In the end the pregnancy and delivery were so complicated, the couple were able to successfully sue the hospital for 'physical harm to the mother' winning €120,000 (around £85,000).
Bellandi for Keith
Giuseppe has been unemployed for five years and Aurora has sadly developed Parkinson's disease, meaning the family are in dire straights financially.

Giuseppe told MailOnline: 'The doctors brought her into the world. They should provide for her study and indispensable needs until she is 18.' 'We were told that we had had to have an abortion. Other couples who get pregnant get to decide if they will keep it or not. We didn't get to decide anything. They told us – first "You're pregnant and you must have an abortion". Then, "You can't have an abortion". They decided everything. As they decided everything they should bear the responsibility.'
Bellandi for Keith

Elisa backs her parents 100 per cent:
But far from selfish or cruel, as their actions first seem, Giuseppe insists that they are taking this action for their daughter. He explained: 'I am not trying to become a millionaire. I just want enough for my daughter to be able to study. In Italy the children have to take on their parents' debts when they die. I don't want that for her.'
Bellandi for Keith

Giuseppe claims he simply wants the best for his daughter:
'We will always try to do the impossible for her as she's our daughter. To me, her mother and Marco [their older son], she's our little queen. We try and make sure she wants for nothing. But we don't have enough.'
'The mistake wasn't mine – so it's not fair that I pay, even though, as you can see, my daughter is wonderful.

Source: Mail Online, HWN Africa.
: 2015-08-14 15:31:45 | : 1630
---